Ri's Fan Fiction Page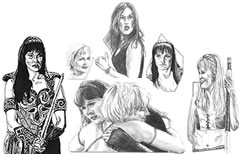 ---
After The Cave - Xena and Gabrielle have a heart to heart after the cave.

Agents of Destruction - In the fifth installment of this series, Lara and Sarah are approached by Interpol to go up against the sinister machinations of Laras' evil uncle. Once again, their love and courage are tested, and somewhat reluctantly, they will have to ask for a bit of help from a certain heavenly source.

All The Time In The World - Here's a sweet X&G tale tying up some loose ends from 'Between the Lines.'

Be My Guide - This short X&G story is written around the episode 'Chakram,' and is a nice character study of our favorite warrior and bard.

Behind the Black Cloud - In this romantic Uber, Rosie had only been at the job for a very short time and she was doing well as junior in accountant in the prestigious accounting firm. In prior positions she always fit in easily with most of the staff. This time she felt so alone. It was getting to be a desperate situation and Rosie really had no idea how to handle it any more. In steps a tall, dark-haired stanger with warm blue eyes whom she meets at Starbucks, who just happens to be the one person that could help.

Between Love and Execution - This takes place during the episode 'When the Fates Collide' between the attack on the Empress from Alti and her meeting with Alti in cell.

Cybotic Love - Here's an Uber romance Ri style, inspired by the robot stories of Isaac Asimov and Ray Bradbury with a pinch of Brent Spiner a.k.a. Data. Enjoy!

Dakota - Card shark Dakota Nozama was the best card player in the county and she knew it. She had been having the same dream all her life...green eyes that met blue. Saving a petite blonde by the name of Jackie from bullies she comes face to face with those green eyes. Watch what happens as Dakota and Jackie struggle with their love in the old west.

Dakota 2 - Defending Yourself - In this second installment, Dakota and Jackie continue to fight for their love.

Dakota 3 - Settling Down - In this third installment, Dakota and Jackie are getting ready to settle down in their own home, but there are things to be done first.

Dakota 4 - The Circle of Life - In the this fourth installment, Dakota is on he way home from a poker championship in San Franscisco when she finds a survivor of a disaster in a little settlement close to home.

Endless Love - In this short tale, a certain couple is being watched by heavenly siblings who just can't help themselves! Who knew?

Entwined Hearts - If you like Sci-Fi and Star Trek, you'll like this romantic tale where total strangers become one in unusual circumstances.

Eternity in an Hour - In the third installment of this series, Lara and Sarah have surprise help on a quest that will take them half way around the world, bringing them even more insight into themselves and their relationship and meeting an old foe!

Family Aboard - Written for the Intrepid Challenge, this is a sweet tale of how friendship blossoms into love and how that love is shared and a family is born.

For Art's Sake - Here's a sweet romantic tale, with a few snags, of two destinies that intersect as artists haunted by their work finally meet and find what they have been searching for all their lives.

Games Of Life - In this Uber, Jackie is a pretty good athlete that could be better, especially if some people would stay away from her. Tash isa sports manager with an eye for a good prospect. Will it pay out? Read this romantic tale that is true to life with a surprise ending and some funny moments.

Gauntlet's Domino Effect (The) - This story takes place after the India Trilogy but before 'The Play is the Thing,' and involves Xena's looking back at her own reform and redemption as she encounters a friend from her past and reflects on how paths cross.

Ghost (The) - In this unorthodox 'ghost' story, two unlikely and endearing people meet and form a bond while trying to resolve an old wrong and get the justice that is deserved. A one-of-a-kind love story!

Growing Pains - In this sequel to 'The Ghost,' Veba continues to improve her developmental progress as her relationship with Rickie continues to blossom. While helping out a client, Rickie gets in over her head and it's up to Veba's incredible reflexes to save the day.

Growing Up Together - In the latest installment to the Veba & Rickie Series, our ladies continue their relationship and Veba, ever growing and learning, shows how invaluable she is to the company as they get involved in a rather disturbing case that might have dire consequences for all. Will Veba save the day again? Read on and find out and you might get a delightful surprise!

Hall of Killers - Amanda had been looking for a job for a long time and she was excited to find one that just perked her interest. She interviewed with the manager and she felt at once that the manager liked her and they would get along. But she wasn't so sure when she arrived for her first day and discovered that her new assignment at the American Wax Museum was 'The Hall of Killers' display.

Happiness - Here's a really cute short tale about a bored Warrior Princess, her Bard and water.
Recipient of the July 2000 Xippy Award.

Hawkeye's Trip - This is a nicely done tribute to M*A*S*H* that brings back fond memories in a well done short tale. The comedic tome in which Xena and Gabrielle finely mesh works well in this sweet, gratifying tale that fans and non-fans of both shows will appreciate.

Healing Time (A) - This story takes place after 'Is There a Doctor in the House.' It comes from real the life experience of the author hurting her back and makes for a good character study of our favorite pair.

How To Steal A Million Revisited - In the authors' own words, this was a lark that turned into a story; it is based on one of her favorite comedies,and basically a tribute to a film that gave her so much pleasure. In this new re-telling the heroines, of course are modeled after a couple of ladies we all know and love.

I'm Only Human - Here's a nice little romantic tribute a la Ri to the movie 'Bell, Book and Candle,' starring our favorite green-eyes blonde and tall, beautiful, hypnotic blue-eyed...you know the rest!

In a Grain of Sand - In this sequel to 'Time Flies,' Lara and Sarah go to Egypt to find a friend and end up in some interesting situations thanks to Ares and a goddess with an unique problem.

Into Each Life - Sandra Peterson was the most sought after OBGYN in her field. She had a 0-mortality rate and her specialty was helping older woman achieve their dream of motherhood. Enter beautiful-petite -blonde-in-a-Bill-Blass-business suit by the name of Amanda Mandsen, hospital administrator. And so begins more than a beautiful friendship.

Invading My Dreams - Kate's eyes grew round as two huge blue lakes. The girl that had been invading her thoughts and dreams for years was in the doorway. She was a small beautiful blonde with soft shoulder length hair that was a bit messy at the moment like she had just woke up. Delta looked at her and with her big green eyes and she thought there was a glimmer of recognitions there too....was she seeing things?? Could it be??

It's All In The Playing Of The Game - A tall raven-haired woman watched the other players with a wary astuteness. She was a great catcher and she was very confident that she would be chosen for one of the teams. What she was trying to do was figure out was which of the players on the field will become her new teammates. One person drew her sharp blue eyes away from all the others, a small blonde who was a hell of short stop. She looked sweet and scared. If she were chosen for her team she'd arrange for her to be her new roommate. She really did need a friend on the team.

Little Distraction (A) - Xena and Gabrielle have a little fun and a little excitement that comes to happy conclusion for a change.

Look Out (The) - Here's a little vignette of a chance meeting...the kind you might want to have...

Meka's Desire - Meka volunteers to go under cover as it were, to find what is amiss in her fathers' cobolt company in Saturn. Meka, a trained warrior, does not have long to wait to see first hand some of the things that need her attention...including a small blond with sea green eyes by the name of Monti.

Million Dollar Baby - In this short sequel to 'How to Steal a Million Revisited,' Nat and Kate continue their relatinship.

New Day Dawns (A) - In this romance by Ri, Mary was in New Delhi to complete her senior course in cultural anthropology and now she couldn't even find where her bed was. Once the shaking stopped and she was trying to get out, she was startled by sky blue eyes holding out a helping hand. The EMT had helped her...saved her...and she didn't even kow her name. Now a year later, they come face to face.

New Goal In Life (A) - Rosalie, or Roxie as she was known by in the rink looked up at the stands and smiled. There she was again - that beautiful blonde was in the exact same seat for the third week in a row. She was so classy. The people in this part of town just weren't like her certainly not as beautiful, she with a sigh. Roxie was happily employed by the first mixed hockey league ever. Candy had been coming to see her for 3 straight weeks...suddenly one of the players got a clear shot and hit the puck toward the goal, which hit the edge of post and ricocheted right toward Candy...

New Moon (The) - In this short slice of Xena and Gabrielles' lives, we see Xena's caring and understanding for her soulmate who is in pain and discomfort and needs a little pampering and lots of love.

Night Thoughts - Xena and Gabrielle discuss what happened in Egypt.

Okaaaay... - Here's a funny tale which is a tribute to one of the writers' favorite comedies, 'What's up Doc.' Great styling of a screwball comedy by Ri!

Out of the Darkness: Into the Light - This story was born out of strange thought after reading some fanfic stories. Xena has such a perfect memory what if she lost it? It takes place right after 'Vanishing Act' but before 'Sacrifice.'

Play (The) - Inspired by Agatha Christie and featuring one of her famous detectives, Ri presents us with Cleopatra Thomas, better known as Cleo by everyone that knew the tall striking brunette,a well known, up and coming actress. She had already been in several West End parts and featured roles. Poirot was pretty sure the only reason she was working in this small theater was because of her sweet friend, Clemintine Brighton the author of the play. It was she who had entreated him to come to the plays opening...would it be possible they would be in need of his assistance?

Red Line (The) - The Los Angeles subway is the setting for the start of a friendship that develops between Dev Price and Holly Dasani. Little do they know that the professions that they both keep under wraps will bring them into each others' paths and set a course in motion that will lead them to collaboration, danger, and much more.

Reflection On Their Path - Here's a short X&G bitter-sweet tale, set after 'Dangerous Prey.'

Reflections on Their Path - This takes place after the episode 'Dangerous Prey.'

Request (The) - In this sequel to 'Cybotic Love,' Anna has a very special request to ask Hilda.

Retreat (The) - In the third sequel to 'Cybotic Love,' Anna and Hilda help two very special friends see the light.

Sage Advice - Xena rescues a great philosopher who gives her some very good advice...

Short Visit (A) - Having received a message that Cyrene was ill, Xena and Gabrielle come home to spend some time.

Solstice Gift To You (A) - In this short little jewel of a tale, Janice and Mel need a little help to really get into the holiday spirit!

Solstice Surprise (A) - In yet another installment to the heartwarming and funny crossover tales, 'Wishing for a Warrior' and 'Wishing for a Warrior...for Xmas,' Ri again weaves Xena and Gabrielle into Sams' world, and this time, some of the gods get involved.

Someone To Watch Over Me - Always wondered what would happen if the unflappable Xena got the flu? This author has made it so! This takes place after India but before the birth of Eve.

Strange Trail (A) - Post FIN tale that has Aphrodite helping Gabrielle try to get Xena back where she belongs. But first, she must meet the challenges set before her, with Xena as her guide.

Strangers When We Meet - Randy uncharacteristically interferes when the cute blond across from her booth is being harrased by her bumbling escort. Brittany is immediately drawn to the tall and dark stranger who has just rescued her...and takes her breath away.

Surviving Hope - This story is the way the author tied up the loose ends about Hope and Gabrielle falling into and surviving the pit at the end of season three and the beginning of season four. It creates a poignant insight into the the two characters and their relationship and wraps it all up with a bow!

The Find Of The Century - Here's another romantic Ri rendition based on a classic movie - this one is based on a Cary Grant and Katherine Hepburn comedy called "Bringing up Baby." Enjoy!

The Forest - In this heartwarming Clone Fiction Tale, Xena and Gabrielle help a woman who is lost in more ways than one.

Time Flies - In this wonderfully woven Lara Croft crossover, it is easy to believe that Lady Croft is Xena's descendant and the one whose destiny is, along with Dr. Sarah Covington, to travel half the known world and complete the tasks their ancestors have set for them...including falling helplessly in love.

Time Returns - If you felt like you wanted more at the end of 'When Fates Collide,' take a look at Ri's scroll that takes up where the episode ended. This tale has Xena and Gabrielle work out what happened to them in Caesar's hell world.

Times Are Changing - In this vignette, Xena and Gabrielle deal with Xenas' pregnancy...

To Find a Heritage - In this Relic Hunter/X:WP crossover, one of Sydney's students' family ring points them and Nigel into a quest for an amazon relic.

Trip in Time (A) - In this crossover yarn, Captain Piccard, entranced with the study of a statue called The Lion of Amphipolis, makes a discovery which prompts him to attempt to find the truth via a short trip in time. What he, Crusher, Riker and Deanna find will be an adventure indeed!

Twelve - In this fourth installment of this series, our intrepid heroines must go only on the information they find in the lost scolls of their ancestors to determine the whereabouts of the Zoan Li 12. That a a little help from a certain godly pair they are somewhat partial to...well...kinda....

Unexpected - Here's a quirky little offering by Ri, an Uber of unusual circumstances and a hat full of possibilities...starring our favority duo.

Until There Was You - Here's a short romantic tale set in the Gold Rush days with a holiday wish just in time for Christmas.

Warriors Thanksgiving (A) - This story takes place after the North Africa episodes, and is infused with the spirit of Thanksgiving.

We Meet Again, Damn It! - In this vignette, while Xena and Gabrielle are awaiting meeting up with Joxer and Amarice, they encounter someone they had hoped never to meet again...

We're Stronger Together - This offers a short enjoyable X&G interlude set after the 'Viking Arc.'

Wishing For A Warrior - This is a darling crossover tale that will make you laugh and warm your heart. Who'd have thought a little witch would wish for Xena?

Wishing For a Warrior...for Xmas - This is a sequel to the heartwarming crossover tale, 'Wishing for a Warrior.' Ri again makes you laugh and touches your heart as Xena and Gabrielle are allowed to again join little Tabitha and her family, for a very special day!

You Have To Close A Door To Open A Window - This is a sweet short tale of endings and beginnings and the possibilities therein.

Zorro: a Warrior for the People - Ever thought you'd be rescued by Zorro?? Green-eyed pettite Celeste finds out...and falls for the pale laser-like blue eyes, eyes that could be full of warmth or icy fire.


---
- Home -

The contents of this web site may not be reproduced in any form, except as occurs in
normal browser caching, without express written permission from the author.  
You may not distribute, alter, or sell it without the approval of the author.
Ri ©1998-2006.

The maintainer of this site can be reached at:
WebWarrior@xenafiction.net